Preparing to make Eco Printed Journals and reflecting on year ahead.
Jacqui Grace from Beautiful Wasteland and I have come together to offer a culmination of Art Therapy, Book Binding and Eco Printing. We will offer this 2 day workshop this January and again in November as a way to reflect on the year and create your journal to companion you in the year ahead, using the process of eco printing, natural dying on fabric and water colour paper, using leaves and flowers and salvaged metal to make prints. 
Below is the inquiry process that we are offering to the participants of the workshop. We thought you may like to use this process, too. Thank you Jacqui for kindly putting together this inquiry. 
Warmth, Amanda
"To enter the new year in a mindful and embodied way"
By Jacqui Grace from Beautiful Wasteland
The end of this calendar year is fast approaching and it's time to prepare to make our eco-printed journals.
The year has moved quickly for me, with a number of substantial changes; building a home and moving home, re-orienting my arts practice, searching again for a new home, considering how I wish to be with the changes in home education policies in Victoria, losing relationships, strengthening relationships, finding a way to be with changes in my body's energy and capacity to name but a few of the opportunities for growth.
It has been a year of sifting through the sands for the the pieces of the previous two years of substantial life adjustments; to see how they have landed and are being re-puzzled together again.
I look back over the journals I have kept this year, art I have made, poems I have written, performance works undertaken. There is so much fodder to draw from as I consider how I wish to move forward from here.  I'm going to be sharing my process of gathering and reduction from these, and invite you to join me in this with your own material, if that would be useful to you.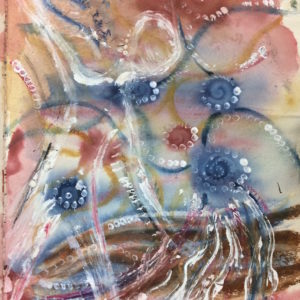 Where are the records of your experiencing kept?  If you have not kept a journal, try reviewing events in your diary and photos and images in your phone. Otherwise, your embodied knowing is vast resource. Simply sit and open yourself up to whatever responses emerge for you and write these down.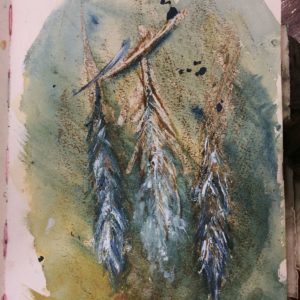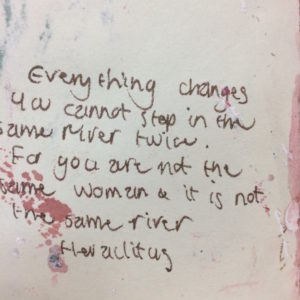 As I sit with all of this, I am companioned by some of these questions:
What knowings do I feel are becoming more clear?
What actions or behaviours will I enact in response to this clarity?
What knowings are still murky- sitting more in the feeling realm rather than the " I can clearly articulate this well" realm? How might I like to be with this?
What did I do well this year? – what qualities and actions did I bring in support of this?
What resources did I draw on when I needed support?
What thought patterns and ensuing behaviours did not serve me well this year? How might I like to be with this?
What threads have emerged that I want to continue to weave into the tapestry of my life?
Which threads am I finished with and ready to cut?
How do these knowings relate to the different realms in my life?
What inspired me?
What are my intentions for the coming year?
What would I name this year?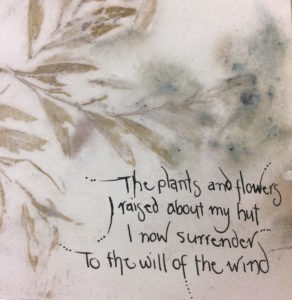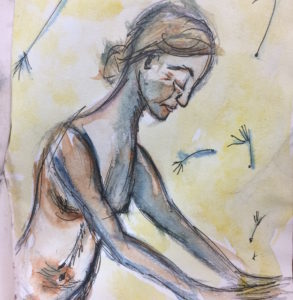 As I go about this, I try to keep the context of the learning alive e.g. "the day I was at home with my children and I felt an inclination to 'make' them do book work, but instead I chose to leave them to their own devices and so much emergent learning happened anyway AND we all felt respected and connected".  The learning here being "When I resist the urge to make my children do work, we all feel respected and connected and the day feels spacious."
I invite you to get out some scrap paper and make some notes of what stands out for you- words, images, phrases, photos.
You might also be the kind of person who can simply tear or cut snippets out of your journals to work with too, I am a mixture of both.
What would it be like to create a representation of the year that has been?
Key Elements
Once you have this collection of key elements, lay them all out before you and see if what you have represents what you feel is important. There might be more you would like to add to this collection. So take a moment to add or remove elements as you feel to.
Clusters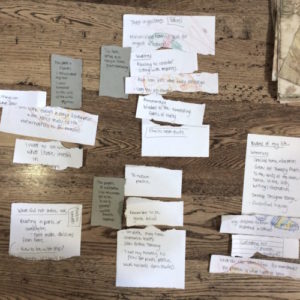 Now you can arrange these elements into groups or clusters based on themes. This is a way of organising what we are coming to know and hopefully support a reduction or distillation into articulations that we wish to carry forward to support us in our preferred ways of being.
What do I think I know now?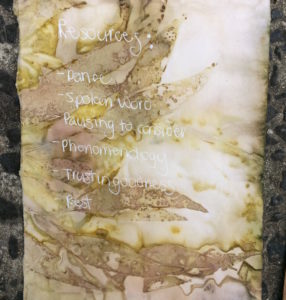 Work with each cluster until you can reach an approximation to meaning.  This essentially is saying, "given all this reflection I have just undertaken, 'this is what I think I know now' ". Of course it will evolve, but what we are trying to reach is something that feels like it has "landed" and can "rest" with us for a little while, to support us in our preferred ways of being.
How can I represent this?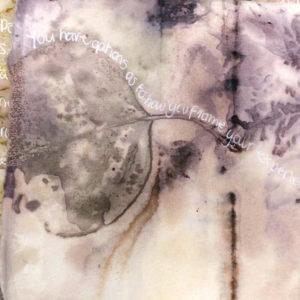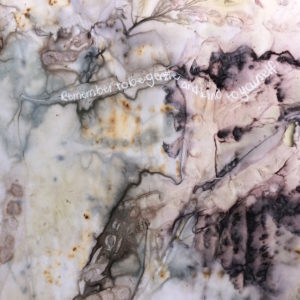 Put aside all the clusters and take these approximations to meaning to your creative process. How do you wish to represent these knowings?
If you are undertaking the journal making workshop with Amanda and I, these will be things you can add into your journal. Are they images, collages, quotes? We will be making A5 size journals, so bear that in mind as you create your representations if you wish to add them in.
Considering the year to come
You might also like to spend some time considering what you want to bring into 2018
The year to come:
What new things do I want to learn?
What self care would I like to do? e.g. massage, meditation, yoga, nature time etc
What values do I want to enact? e.g. reliability, trustworthiness, courageousness etc
What supports would I like to bring into this year?
How do I want to care for my body?
How do I want to feel about my finances? What actions do I need to take?
What qualities do I want to cultivate?
How do I want to contribute? What causes am I passionate about?
Bringing it all together
I still have not made a representation of the year that has passed, but I do know that the year to come will be called emergence.
I am still in the process of this, but here are some images of what I have so far.  Snippets of learning, quotes, pages to create with and reflect upon.  I have undertaken a significant metamorphosis and its feeling like time to embody that and land in 2018 with some lively flesh upon my body.
Wishing you well in your creative and reflective process and if you are joining us in January for the workshop, I look forward to seeing you then.
Jacqui
If you'd like to book in for one of our last spaces, please contact us for availability.