I received an inquiry from Yvette from 'Moment' Magazine last month, and was more than happy to answer her questions about a big passion of mine, vision boards.
How did you discover vision boards/what made you start using them?
I discovered Vision Boards over ten years ago. I was writing out my goals, like I did at the beginning of each year, I kept hearing about vision boards as a way to capture what you want more of. I saw the movie 'the secret' which sounded a bit strange but I thought I would try it anyway. I enjoyed Art in school, until I realised I didn't want to do it as a job- doing art for others took the joy out of it for me, and it was too much pressure to 'perform'. Making a vision board was just for me.
When I started creating vision boards I was working in a job working with teenagers running creative programs to support them to discover who they are and to reach their full potential. It was in this role that another colleague and friend, Tabitha, let me know about Art Therapy. I had not heard of it, and this sent me on a mission to understand. I found it was a way to combine my passion for working with people to increase wellbeing, while also utilising the power of the creative process. I feel like the passion I had for creativity and the vision board process is what has lead me to offer Vision Board Retreats for some many others in the last 7 years through my Creative Arts Therapy private practice.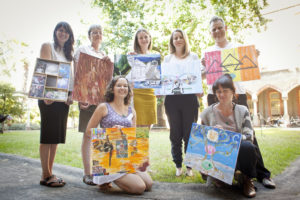 How have vision boards helped you?
Vision Boards are a supportive and fun way to keep connected to where I am headed. They help make sense of what matters to you, bring lightness to the next steps, bring excitement into the future. Often the unknown parts start to feel more known- even if it is just knowing how I want to feel and what is important in my life.
I have achieved almost all of my visions from all of my previous vision boards (with a few I am still working with!) The house I am living in now was on my vision board last year, and I didn't even realise I was going to be moving! I love where I am living right now and they way I can find creative ways to live in alignment with my values.
What factors do you think are key to putting together a successful vision board?
A vision board can be created for many different purposes- either an overall creation of your life, or different parts of your life that you want to focus in on, like your family, your career, or your health. The basic idea is that by putting together visual images of what you want and having those images around and somewhere you see regularly, these visions will become such a part of your life that you will move towards what you want. It is a great reminder of your values, your desires and what you deeply yearn for.
The creative process is key to harnessing the power of the vision board. It is not about what it ends up looking like, how perfect it is. The process of creating is what can support you to find what you want, to attune yourself to your curiosity; paying attention to what you are drawn to and what makes you feel moved, excited, alive.
I recommend spending time playing and exploring different images, materials, colours and trusting the process. It may not seem like it is going anywhere and you may find moments of feeling stuck or experiencing doubt. See if you can stay with the process. It is not linear, and staying with the process and remaining curious can reveal things that you did not know before.
There is no set formula that I recommend, because I believe that you finding your own way of doing it is going to be so much more powerful that any set of instructions you follow. Find what makes you smile, what images make you stop and look twice. That is where your interest lies. If you slow down and notice the gentle pull towards what you love, and follow that, your vision board will unfold in the most personal and unique way.
Once you've completed it, don't be afraid to revisit it regularly, adding or changing it throughout the year, and reflecting on where you are tracking in moving towards this vision.
4. What one piece of advice would you give to someone putting together their first vision board?
It does not need to make sense to anyone else except you. Stay with and surrender to the process of creating it, letting go of perfectionism, and let it be perfectly imperfect. The stuck moments reveal metaphors of where you may find stuck places in your path towards what you want. This process can take you towards the feelings you want to cultivate more of in your life, and ways to navigate the uncomfortable feelings. It is not just about material items or external goals. Bringing the feelings you want to cultivate into the process of creating it is a really important part.
What unique benefits do you think vision boards have in helping people achieve their goals? 
The biggest things I have noticed for myself is that when I used to set goals, the pride in achieving them was short lived. I got to tick it off but I was constantly focussing on the next goal, and not looking at what I had already achieved. With the vision board process, I focus on how people want to feel, and what can create those feelings in their everyday life, not just once they achieve a desired goal. This approach creates more fulfilment, and offers a more empowered approach to increase personal wellbeing. From this place of wellness, we are in the best position to step outside our comfort zone towards what we want.